New to Nikon? Get started here
Nikon Team
•

Technology & know-how
•

06 Sep 2023
•

7 min read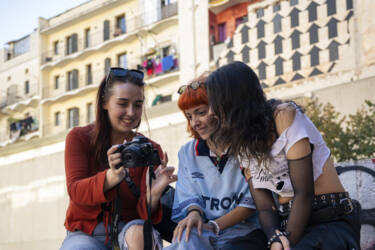 Thinking of upgrading your content game? When your phone can't keep pace with your creativity, we're here to elevate your photography
Why is a camera better than my smartphone?
A mount: the part that joins the camera's body and the lens
Not only is your camera more ergonomic and comfortable to hold, but your camera will also always perform stronger than your smartphone. Why? The answer is easy: photography, including video, is all about capturing light. The light comes in through a lens on your phone or camera and on to a sensor. The more light you can get to the sensor, the more detail you will capture. The place on a camera where you attach different lenses is called the mount. Nikon's Z mount is ultra-wide and therefore gathers more light. Then we come to the sensor. This has two measurements: the physical size of the sensor and the number of megapixels on the sensor. Let's dive into this.
Do megapixels matter?
A pixel: the measurement of the resolution of stills and video – the small dots that make up an image. A megapixel is equivalent to one million pixels
Megapixel count has in the past been used as a shorthand for quality – the higher the better – but it's more complicated than that. A phone with 20MP will have all those pixels on a sensor the size of the chip on a debit card, whereas a 20MP 35mm sensor on a camera such as the Nikon Z 5 and Z 6II has much bigger pixels, capturing much more light and more detail. This also means that a mirrorless Nikon camera is considerably better than a phone when shooting in low light situations.
Sensor sizes
A sensor: a piece of hardware inside the camera that captures light and converts it into signals, which forms an image
Nikon mirrorless cameras come with two sensor sizes that we call DX and FX. The FX sensor is roughly the same size as an old 35mm film, which is why these are called 'full-frame' cameras – such as Nikon Z 5, Z 6II, Z 7II, and so on. DX cameras, such as the Nikon Z fc, Z 50 and Z 30, have a slightly smaller sensor (but still very large when compared to a smartphone), making the cameras smaller, lighter and less expensive than the FX bodies. All Nikon Z mount lenses will fit either a DX or an FX camera.
Flexibility
Macro: in macro photography, the subject is life-size or greater due to the magnification of the shot
Your phone simply can't compete with a camera system such as the Nikon Z series for flexibility in what and how it can shoot. With a huge number of Z mount lenses available, you'll no longer have the frustration of not being able to take the shot you see in your head. Whether your passion is macro shots of insects and flowers, pin-sharp pictures of far-away animals, vertical video of sun-kissed cities and beaches for TikTok or portraits with beautiful, blurred backgrounds (or foregrounds), there are dedicated lenses. Add to that the level of control you have over every image and video you take, and the difference is clear.
Which one is for you?
Whatever Nikon camera you choose, you'll discover a world of better pictures and video. If you're moving up from a smartphone, you'll immediately notice the huge difference in quality, detail and control over the finished content. We unravel the DX and FX range below.
The Nikon Z fc
Best for: those who want retro style without compromising on up-to-the-minute tech
For those who want a cool, retro look and feel, but with all the latest technology, the Nikon Z fc is perfect. Based on a classic 1980s Nikon film camera – the FM2 – this DX camera has chunky metal control dials, a vari-angle screen and comes in a variety of body colours, including a limited edition all-black model. Nikon's mirrorless technology makes it amazing in low light situations and on nights out (find out more here). Pair it with the NIKKOR Z DX 24mm f/1.7 lens for the full retro look and get started with street photography, landscapes and portraits, while capturing high-quality video.
Learn more: For a deep-dive into the NIKKOR Z DX 24mm f/1.7 prime, check our Inside the numbers here, or, for getting the most out of your prime lens click here.
The Nikon Z 30
Best for: vloggers and content creators
A vlogger's dream, the Nikon Z 30 is made for video. Delivering next-level image quality in a small and lightweight package, it's the perfect way to create your content. With 4K video, and full HD in slow motion and timelapse modes, the Z 30 uses the full width of that DX sensor to get you a near 100% field of view (for a deep-dive into video specs, read more here). Amazing autofocus will follow your eyes when you're vlogging so you're always sharp on screen. You can record over two hours of video without stopping and, with WiFi, Bluetooth and Nikon's SnapBridge app, you can upload your content instantly from anywhere. The ultra-wide-angle power zoom lens NIKKOR Z DX 12-28mm f/3.5-5.6 PZ VR is a great match for the Z 30, and perfect for both putting yourself in the picture in a vlog and shooting dynamic scenery. It's small, lightweight and versatile, with in-lens vibration reduction for super-smooth video. With one of these and a Nikon Z 30, you're ready to shoot.
Learn more: For an ultra-wide angle lens run-down, read our guide here, or check out how to use ultra-wide zooms to up your video creativity, or create immersive, dramatic landscapes shots.
The Nikon Z 50
Best for: creators on the go, photographers who want to up their game
The largest of Nikon's DX cameras, but still light and agile, the Nikon Z 50 is fast, easy to use and packed with innovation. Eye-detection autofocus means your subject will always be frame, wherever they are. It's also a master in low light situations and has a silent mode for shooting those quiet moments. With a pop-up flash for extra light when needed, the Nikon Z 50 is always ready to go. Paired with Nikon Z mount lenses, the Z 50 is a fantastic way to start getting deeper into photography and videography. Whatever you create, the Z 50 will capture the vision in your head on screen. The NIKKOR Z DX 16-50mm f/3.5-6.3 lens, which is also available as a kit with the Z 50 body, is an incredibly compact zoom lens that's perfect for portraits and travel, and it works wonders for video, vlogs and interviews.
Learn more: Read the benefits of mirrorless cameras here, a full guide to NIKKOR lenses here, and why the Nikon Z 50 is the ultimate street photographer's camera.
The Nikon Z 5
Best for: next step video and stills creation, those looking to invest in a full-frame camera
If you want to go full frame, the Nikon Z 5 with its FX sensor can be your constant companion wherever, and whenever, you shoot. With its tough, but still light, weatherproofed body, you can be working all day in all weathers and always get the perfect shot. In fact, Maximilian Streich tested the Z 5 against the infamous great British weather (results here). Plus, you'll capture 4K Ultra HD video like never before, while the built-in five-axis stabilisation means you can shoot rock steady while on the move.
Because a zoom lens in the middle of the focal range is a must for most photographers and videographers, the NIKKOR Z 28-75mm f/2.8 lens is a fantastic option to pair with the Nikon Z 5, giving you wide angle to telephoto in one amazing package. Everything from portraits, to street scenes, and landscapes will look incredible, and the lens' small scale is perfect for when you want to travel light.
Learn more: Read how Maximilian Streich shoots in all weathers, the secrets to nailing food photography, and why the Z series mirrorless cameras are better for video.
The Nikon Z 6II
Best for: enthusiasts wanting to advance their creativity
With its FX sensor, the Nikon Z 6II is a sensational camera for stills and video. Twin processors within the camera make it incredibly fast and powerful, while that big FX sensor gathers as much light and detail as you will ever need, helping you to create incredible images. The Nikon Z 6II is often found in the bags of pro photographers, so you'll be in good company knowing you're shooting with the best kit. NIKKOR Z lenses offer a world of possibilities and, of course, with the FTZ II adapter you can attach more than 300 Nikon F mount lenses, too. The NIKKOR Z 24-70mm f/2.8 VR S lens is a wonderful partner for the Nikon Z 6II. The zoom lens covers frequently used focal lengths – perfect for a huge variety of subjects – and the wide aperture gives you access to beautifully smooth blurred backgrounds when you want them.
Learn more: Gain a greater understanding of focal length here, read how teleconverters can double your reach, and we answer why f/2.8 is the magic aperture.